About us
History, Mission, Vision
Thomas Edison once said "I find out what the world needs, then I proceed to invent".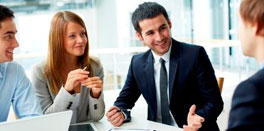 Our Information
In 2010, a group of individuals were looking to invest into a company that would make a difference in their community. Their aspirations to always put people first drove them to invest into the community banking space. While they were looking to improve the purchased company's service offering, a friend asked if he could get help with an income tax problem he had. In discussing this subject with the enterprises new management team, it was then quickly realized that this was a common situation and that offering this type of free support service would certainly be an appreciated service in the community.
Their new "quick tax solutions "service, later coined as Kwik Tax, quickly became an appreciated community program. It was later improved by adding low cost income tax preparation service. Shortly after, client's need for "instant cash for their return" was requested and Kwik Tax became the first locally owned company to offer this service.
Time has now proven that offering a personalized approach by taking the time to understand the needs of our clients continues to create customer satisfaction. This theory has been supported by client loyalty and growth of the Kwik Tax brand.
Whether you have a question following an income tax re-assessment, to prepare your income tax return or to simply wanting to benefit by getting what Revenue Canada owes you today with Kwik Tax's Instant "cash in a flash" (Most times on the same day) remember that, you always get the Max with Kwik Tax".